A heartwarming story in a world full of discovery

Join Elowen in her journey to restore her companion, and help quirky characters and delicate creatures along the way in this relaxing and accessible game set in a procedurally generated world with beautiful pixel art and calming soundtrack coordinated with the day/night cycle.
Story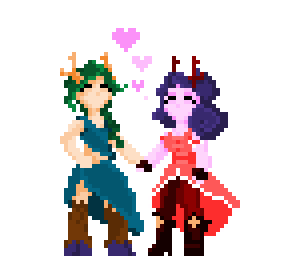 The main story has about 1 hour of content, where you help your loved one regain the physical form after an injury. You will need to collect magical power from the environment by collecting glowing orbs and avoiding the critters. As the story progresses, your house expands increasing the opportunities you have to help the creatures in the world. After completing the main story, you gain access to the greenhouse and may collect plant specimens. You will be free to continue exploring the rarer areas, upgrading your abilities, and collecting plants.
Critters

5 critters will gladly donate some magical essence to your cause, as long as you don't disturb them. Avoiding touching the critters brings a challenge to the game, and reinforces oneness with the environment.
Upgrades
Along the way you will meet some curious characters in need of your help. If you choose to, they will assist you in return with increased mobility and magic harvesting. This will help your main story to progress
Mossy: Caretaker of Seedlings
The Mushroom King: Lord of Jumping
The Great Flutterer: Master of Gliding
Additional Key Features:
Day night cycle bringing unique creature behaviors
Beautiful soundtrack coordinated with the time of day
Pixel-painted scenery
Cute critters
Full controller support
Simple control scheme
Low difficulty, high skill cap
Procedurally generated endless platforms
The world scales to your skill
Auto saves
Among other things, we at Sweet And Power Sauce strived to create the world's most relaxing ASM-like platformer. Nothing in this game's world is cruel, and you are welcome to learn and explore the world we created for you at your own pace. I hope you enjoy it.
-Doug
Lead Designer